Request for PTTC Sponsors
Why become a sponsor of the Petroleum Technology Transfer Council (PTTC)?

The Petroleum Technology Transfer Council is a not-for-profit corporation whose primary purpose is to promote education and professional exchange in the petroleum industry through workshops, symposia, and short courses. Under IRS Code section 501(c)3 donations to PTTC are tax deductible.
As a national organization, with five regions covering all producing basins in the United States, PTTC has been, and will continue to be, responsive to local needs
Federal and state funding, plus generous grants from a limited number of sponsors, has helped keep registration fees for our events to a minimum, enabling more geoscientists to attend
However, funding from federal programs has been discontinued; therefore, a continuation of the level of services that has been provided during the past 20 years will require additional sponsorship from industry and from individuals
With your essential, even critical support, PTTC will continue to be dedicated to ensuring a strong, viable American energy industry through education and outreach to all sectors of our communities
SERVICES
PTTC publishes an online newsletter and calendar, a monthly news column in The American Oil and Gas Reporter, and an updated website, pttc.org
PTTC regions across the United States offer multiple workshops per month
These workshops cover a wide variety of topics in the areas of geology, petroleum engineering, geophysics, and energy-related software training
PTTC regional offices provide information and services, and access to a library of past workshop publications
PTTC cooperates with local professional societies to meet the specific needs of the regions through:

short courses and symposia
core workshops and workbook materials
field trips
Please accept an invitation from PTTC to become an individual or corporate sponsor, thus enabling us to continue and expand these programs. PTTC Sponsors support the 2015 PTTC calendar of events and will receive recognition for this support. Consider becoming a PTTC Sponsor and help provide the very best in symposia, short courses, and much more.
Your sponsorship not only supports professional exchange and education, but greatly enhances your visibility and reputation within the United States energy community.
Categories of sponsorship
PTTC offers several categories of sponsorship, listed in the table below. Sponsors may specify that their donation be divided between their particular region and the national organization. 
 Support at any level is welcome and appreciated. Please consider offering your support today.
Questions?
Contact:
Executive Director Mary Carr, and Rockies, PTTC, mcarr at mines dot edu, 303-273-3107
Doug Patchen, Eastern PTTC, Doug.Patchen at mail dot wvu dot edu, 304-293-6216
Joan Crockett, Midwest PTTC, jcrocket at illinois dot edu, 217-333-6630
Jeremy Viscomi, Midcontinent PTTC, jviscomi at pttc dot org, 785-864-7396
Jerry Anderson, West Coast PTTC, pttcwestcoast at cccogp dot org, 661-635-0557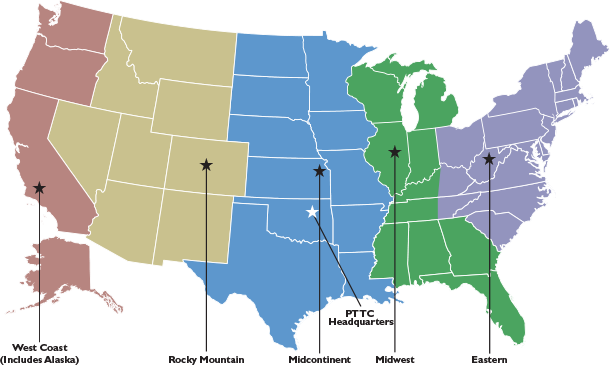 How to DONATE